Following critical acclaim as a major new production for Silo Theatre in the 2020 Auckland International Arts festival, and a sell out season in Wellington at the Kia Mau Arts Festival in June 2021, the award-winning UPU will be presented across Aotearoa in October 2023 as part of PANNZ's touring programme.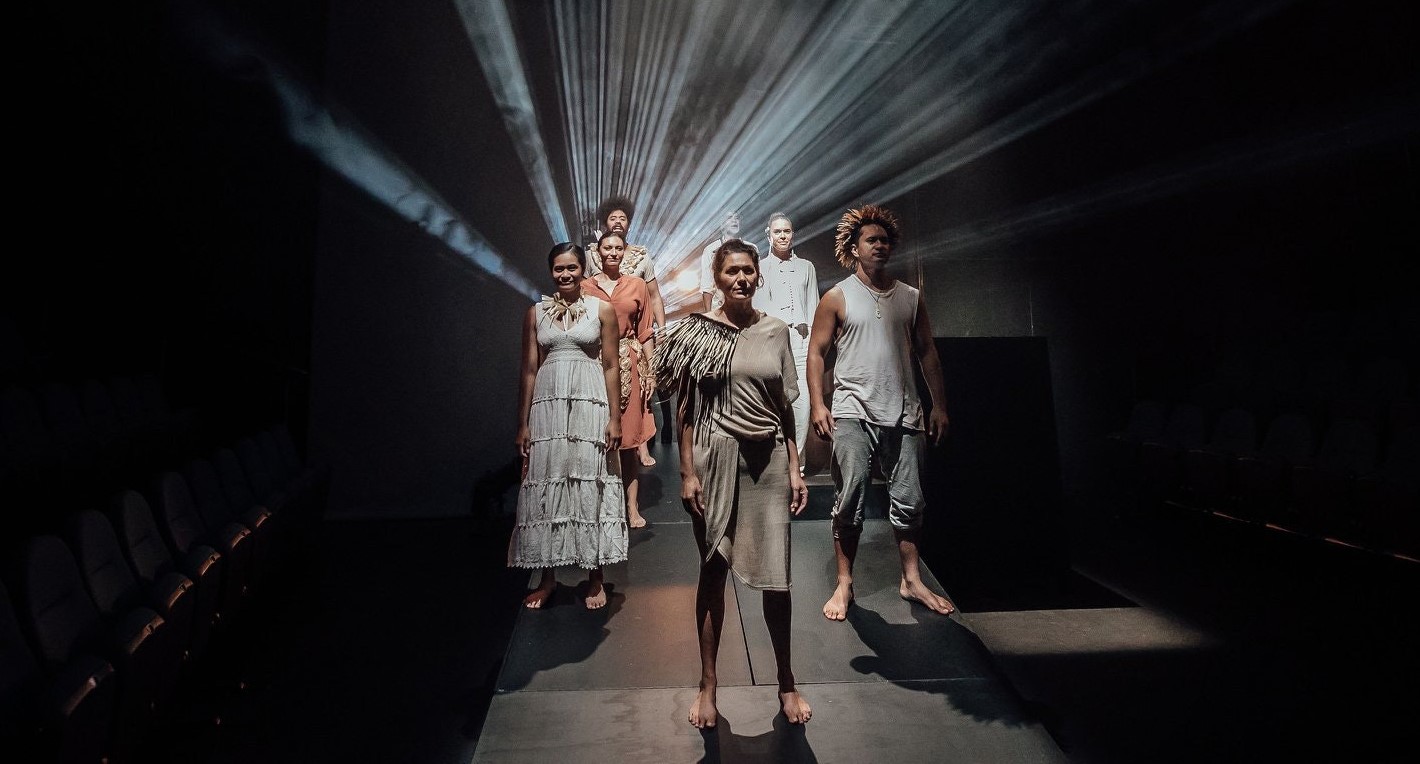 "In short, UPU shows Oceanic storytelling is truly amazing" - NZ Herald
---
The power of Māori & Pasifika literature roaring to theatrical life.
The world of Oceania is not small. From the energetic volcanoes of O'ahu to the southern reaches of Aotearoa, she is borderless and vast – and growing bigger by the day. After decades of dismissal and disconnection, her children are closer than ever. It's time for a reunion.
In Samoan "upu" means "word".
Curated by award-winning poet Grace Iwashita-Taylor and led by powerhouse director Fasitua Amosa, UPU gives the stage to Oceania's most electrifying poetry. Ben Brown, Karlo Mila, Albert Wendt and more: UPU is for the trailblazers, the icons and the new writers transforming Aotearoa today.
In UPU, borders disappear and for just over an hour, the theatre becomes a sea of Islands. Be transported across an ocean to hear the voices dealing with colonisation, family, climate change, love, sex, religion, power and tourists.
Performed by a stellar cast of some of the best Tagata Moana actors in Aotearoa NZ - Maiava Nathaniel Lees, Mia Blake, Ana Corbett, Shadon Meredith,  James Maeva, Nicola Kāwana and Nora Aati.
"This show is pure oratory and storytelling at its finest." - Theatrescenes (NZ)
---
Curator - Grace Iwashita-Taylor
Director - Fasitua Amosa
Set Design - Michael McCabe
Light and Projection Design - Rowan Pierce
Soundscape Design / Original Composition - 'Anonymouz', aka Faiumu Matthew Salapu
Costume Design - Kristin Seth
Artist / Projection Mamanu Design - Tyla Vaeau
Movement / Choreographer - Joash Fahitua
SHOW AWARDS: Best Director & Best Sound Design, Wellington Theatre awards, 2021
Supported by Creative New Zealand, produced by UPU Collective and presented as part of the PANNZ (Performing Arts Network New Zealand) touring programme.
---
Recommended for ages 15+. Contains strong language and adult themes.
---
AUDIO DESCRIBED PERFORMANCES AND TOUCH TOURS
PANNZ are delighted to be partnering once again with Audio Described Aotearoa, supported by Manatū Taonga Ministry of Culture and Heritage, to offer touch tours and audio described (AD) performances of UPU for the low vision community in Taranaki, Rotorua, Tauranga and the Hawke's Bay. Full booking details for the AD performances can be downloaded here.