PANNZ ARTS MARKET 2024: 4-6 March
The Performing Arts Network of New Zealand (PANNZ) Arts Market is Aotearoa/New Zealand's premiere event for artists, producers, presenters and industry leaders from across the performing arts sector.
Ko te Performing Arts Network of New Zealand (PANNZ) Mākete Toi te tino kaupapa mō ngā kaimahi toi rātou ko ngā kaiwhakaputa ko ngā kaiwhakaatu me ngā kaiārahi o ngā rāngai huri noa i te rāngai mahi a te rēhia o Aotearoa.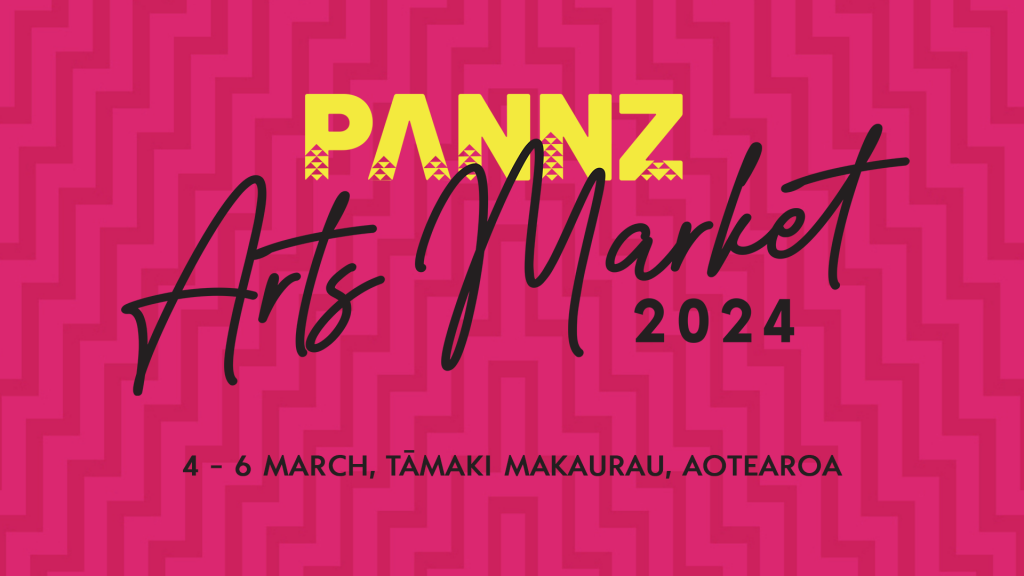 Delegate Registrations for the Arts Market 2024 are now open
Click on the buttons below to register online.
Registration Fees
Independent Artist/Producer* $105+GST
All other delegates $695+GST
Registration includes access to all three days of the In-Person Market in Tāmaki Makaurau as well as access to the Arts Market Digital Platform.

*Fee Eligibility: Independent artists and producers who are not employed/contracted by companies that receive Investment Funding from CNZ under the Toi Tōtara Haemata and Toi Uru Kahikatea programmes.
Please note: There are no day passes or discounts if you can only attend a portion of the PANNZ Arts Market - these prices are designed to ensure you are able to participate for the entire week.

PANNZ is committed to ensuring we hold an event that is as widely accessible as possible to all levels of the industry. If pricing is a barrier for you, please talk to us as soon as you can, we are here to help. We have a number of initiatives, which can help you attend the PANNZ Arts Market. Please email us at info@pannz.org.nz
ARTS MARKET 2024 SCHEDULE
This is an outline of the schedule as at 27 November 2023 and is subject to changes by PANNZ prior to the Market. The detailed programme for the Market will be released closer to the event. Please note that invited international delegates attending the Market in person will be provided with a separate hosting schedule.
MORE ABOUT THE ARTS MARKET IN 2024
The PANNZ Arts Market is taking place across three days in Tāmaki Makaurau (Auckland), 4th, 5th and 6th March 2024.

This Arts Market sees a return to showcases and pitches happening live and in person, as we continue to build on having artists and their work at the centre of what we do.

We will showcase multiple full-length performances within a theatre environment, as well as one-minute and five-minute pitch sessions of exciting tour-ready performance works.

Across the three days there will be both formal and informal networking opportunities and roundtable sessions. The programme will feature talks, ideas and discussions that capture the creative zeitgeist and provide a platform for connection, and collaboration on the themes and priorities faced by our sector and the world. During the Arts Market we also have a number of taster showings so you will experience as much art as we can fit it in.
THE CURATED PROGRAMME
We are delighted to have such a high calibre selection of pitches and showcases during the PANNZ Arts Market 2024. As there are a limited number of presenting opportunities, we have consulted with a panel of national and international industry representatives to help us select who will pitch and showcase their work. Work is selected through rigorous assessment of the application information provided. The panel looks for work that represents the breadth of the performing arts sector in Aotearoa, bringing collective knowledge, experience and insight to the assessment process.

THE PRESENTATION TYPES
Here's a breakdown of the presentation types that will feature during the Arts Market:
Five-Minute Pitches: This will feature artists/producers with work ranging from 'in-development' to 'tour ready' and will be a live five minute pitch during the market.
One-Minute Pitches:  This will feature artists/producers with work ranging from 'an idea' to 'tour ready' and will be a pre-recorded one minute video played in person during the market.
Development Showing:  This will feature artists/producers wanting to invite presenters and Arts Market delegates into their 'work in development' in some way. This might be a reading, an open rehearsal, a workshop or similar.
Full-Length Showcases. This will feature artists/producers with tour-ready full length works able to be showcased as a complete production alongside the Market.
THE DIGITAL PLATFORM
The Arts Market 2024 will utilise the Arts Front Platform - a software system developed specifically for the arts sector by our Australian partners, Feral Arts.
All registered delegates will have a profile on the platform with details of their work and ways to connect with them. Delegates retain access to the platform for 12 months following the Market.
INTERNATIONAL PROGRAMME
A number of international presenters and collaborators have been invited to attend the PANNZ Arts Market 2024 with support from Creative New Zealand Toi Aotearoa (CNZ). In 2023, over 40 delegates attended from around the world.
The 2024 international programme will include hosting of guests to ensure meaningful connections are made between pitching and showcasing artists, for either future presentations internationally, or to collaborate or commission and localise work in their territories.
---
A big thank-you to our partners for making the PANNZ Arts Market possible:
CORE FUNDER: Creative New Zealand
MAJOR PARTNERS: Arts Front, Auckland Live, and Asia NZ Foundation

MEDIA PARTNER: The Big Idea
INDUSTRY PARTNERS: Q Theatre, Basement Theatre, Ticketmaster, Auckland Arts Festival, Aotearoa NZ Festival of the Arts, Track Zero and the New Zealand Music Commission
ACCOMMODATION PARTNER: Four Points by Sheraton
WHAT IS THE NATIONAL TOURING AGENCY (TOUR-MAKERS) AND HOW DOES IT CONNECT TO PANNZ?
PANNZ was funded by Creative New Zealand in 2015 to run the national touring agency. We support the touring of professional Aotearoa/New Zealand theatre, music and dance, and is a key initiative towards a sustainable touring network in Aotearoa/New Zealand. The purpose is to deliver high-quality work, with more than three people on stage, to medium-large scale professional performing arts venues throughout the country.
Each August, expressions of interest open for touring the following year. Applications are considered for suitability (marketing collateral, quality, scale and financial viability) and then a shortlist is taken to presenters to consider demand.
The 2023 our National Touring seasons featured Shel We, The Haka Party Incident by Katie Wolfe and UPU, touring to 8 centres throughout Aotearoa.
---
HAVE QUESTIONS?
Please contact
info@pannz.org.nz
if you have any questions regarding the Arts Market.